OUR 2021 THEME VERSE:
But we all, with unveiled face, beholding as in a mirror the glory of the Lord, are being transformed into the same image from glory to glory, just as by the Spirit of the Lord.
NKJV – 2 Corinthians 3:18
Is your walk with the Lord EXHILARATING? Do you need some encouragement and uplifting? If you don't already attend a GREAT CHURCH where there is an EXCITEMENT in the air and a PASSION for Christ, we'd love to have you in our services at West Republic Baptist Church this Sunday!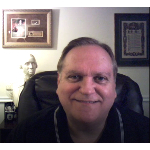 Dr. Christopher Beck is the pastor of West Republic Baptist Church (WRBC). Beck is a graduate of Republic High School, and he is married to his best friend, Dana, who is a retired public school teacher and who now teaches as an adjunct professor at Baptist Bible College. They have a son, Lincoln, who is already in heaven. He was three years old when he left this world for the next.
Beck is excited about the ministry at WRBC. "God is doing great things at our church,"
Beck says. "In this fast-paced technological society, people are looking for something solid, something true, something lasting. We're excited to share the hope that we have–and that they can have– in Christ with our community!"
Beck has a background in Christian broadcasting and Communication.
After graduation from RHS, Beck graduated from Baptist Bible College with a Bachelor's degree in Biblical Theology. Subsequently, Beck earned a Master's degree in Communication from Southwest Missouri State University and, in 2004, our pastor earned a Ph.D. at Regent University in Virginia.
Beck also serves as the chair of the General Education Division of Baptist Bible College in Springfield, Missouri, training people who are preparing to serve the Lord in various areas of ministry.
TEACHING/PREACHING
FROM PASTOR BECK
At West Republic Baptist Church (WRBC) we believe the place to go for the answers to life's questions is God's Word–the Bible. If you want to know God's will for you life, you will not find it apart from His Word. It is God's account of reality. It is His love letter to us! It is the place to find hope, wisdom, and direction in life! It is POWERFUL! May God's speak to your heart through His Word as you listen to the teaching/preaching here!
Essential Tips for Time Travelers (Bible Prophecy Part 3)
Essential Tips for Time Travelers (Bible Prophecy Part I)
Essential Tips for Time Travelers (Bible Prophecy Part 2)
JOIN US
We would love to see you at WRBC for one of our services. If you're not in the area, you may view our online service at 10:45 on YouTube and Facebook.
PO Box 402
Republic, MO 65738
If you have questions, or would like more information, please leave your name and contact information.
Click below to support West Republic Baptist Church and its ministries.